Operation Desert Storm 30th Anniversary Edition – Christmas Release:
Fans of ThirdWire's Strike Fighters, I'm glad to announce the Christmas release of Operation Desert Storm: 30th Anniversary EditionlEdition. This huge and quality total conversion has seen two Early Access releases this year, one back in January 16th and the other on August 2nd.
Once available to site subscribers only, now we offer an updated version of the package to all CombatACE users as our Christmas gift, regardless of a subscription.
There have been usual bug fixes and important improvements since the last release. Make sure to read the change log and all the details on the mod's download page once it's approved.
You are not required to own a subscription, but keep in mind that the mod is distributed in a hefty, yet highly compressed 3GB installer which contains 15GB of contents. You will need a stable internet connection in order to download it. The mod cannot and will not be offered in a different form. A subscription grants you unlimited number of downloads for its duration and will support the site's hosting costs.
The Operation Desert Storm: 30th Anniversary Edition modification does NOT comply with CombatACE's Freeware Licensing. Various contents of this modification are exclusive, as such you are NOT allowed to share, redistribute and/or make use of the mod and/or its contents for other purposes, without the consent of the mod's developers. Contents of the modification are the copyright of their respective authors.
My personal thanks to the ODS 30AE Development Team, you guys keep inspiring me with your great works and continuous support! And special thanks to @Erik and to all admins and moderators of this great place that is CombatACE.
Happy Holidays, pilots of the virtual skies!
Menrva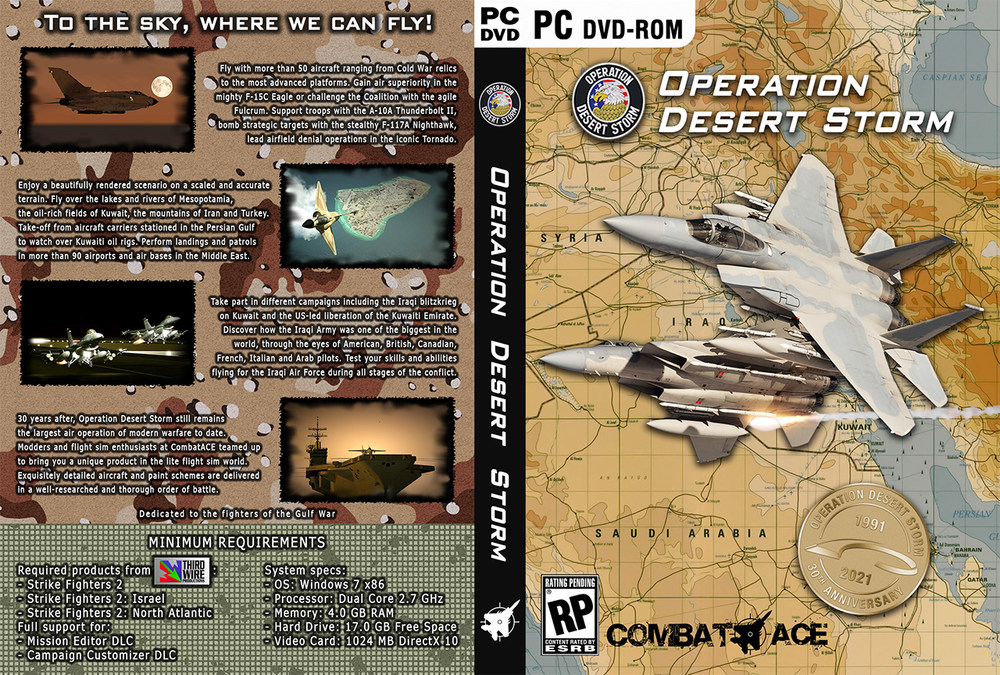 https://combatace.com/forums/topic/96979-operation-desert-storm-30th-anniversary-edition-christmas-release/?tab=comments#comment-792290